Wearing a Barong Tagalog is not as simple as it seems. It still requires a few definitive steps on how to make sure that you are wearing them right and look good doing so.
Step 1: The first step that you'd have to consider is the fabric. There aren't many fabric choices available for a formal barong. Every fabric that is sold in its natural color has a unique personality. As a result, selecting the right cloth can provide excellent fashion that can be carried over into your personal appearance. Make sure you choose the right fabric according to the nature of the event you're going to wear it to.
Step 2: The next thing that you'd have to consider is the embroidery design. The ideal choice for a barong is to keep it understated with a pechera design if you want to appear understated or if you want to wear the same one everywhere you go. You can always dress in something with a raya design or a batok with patterned sleeves for a classy look.
Step 3: Details matter when wearing a barong, so the next thing to consider is the embroidery method. The effect of the embroidery technique—hand, computerized, hand-guided, or a hand-and-machine hybrid—depends on the fabric, the color of the fabric, the thread, and the density of the embroidery design. It has a significant impact on the barong's appearance. In Kingsmen, all the barong fabrics are hand-embroidered because of the delicate fabrics being used.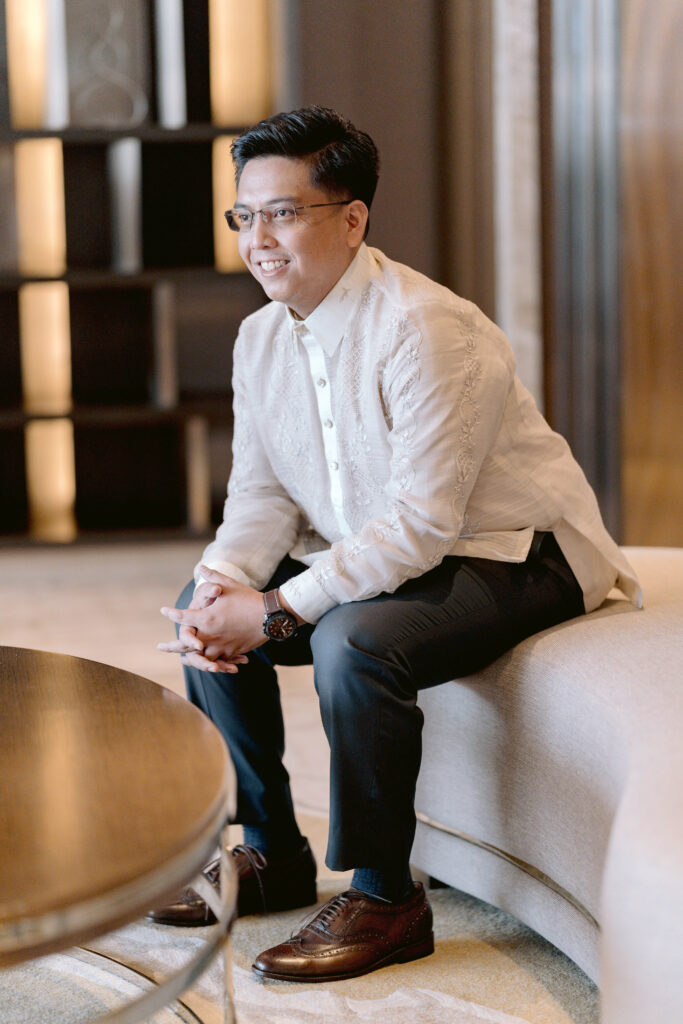 Step 4: Now that we have the design down. Let's move on to the style. A barong that fits
perfectly feels and appears better. The qualities of a barong with a perfect fit are as follows:
1. The collar should be snug around the neck with just enough room for one finger to fit inside.
2. The place on top of your shoulder where your arm meets your body should be the upper limit for the seam where the sleeve attaches to the body.
3. It gives you a full range of motion and fits comfortably over the chest, armpits, and across the upper back.
4. The wrist should be covered by the sleeve.
5. Your backside should be covered by the barong's length.
Step 5: This next step is usually overlooked, but is one of the most crucial parts of the look– the undershirt. Select a long-sleeved Camisa de Chino that matches the hue of your vintage barong